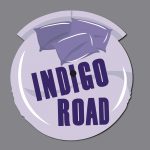 Indigo Road
Ten years ago, Indigo Road was a small but increasingly popular group whose debut album was greatly anticipated among a growing band of afficionados.  The reasons for its non-release is a long and tangled story but now, Mark Herbert, the writer, guitarist and founder of Indigo Road – and owner of Big Bed Records –  has reclaimed the music from those sessions.
The idea behind Indigo Road was to form a loose collective of musicians and singers.  It is a similarly collectivist idea to the one Mark is now pursuing with F/H Block Music and the band Breakfast Club.
The original Indigo Road line-up featured Heidi Jo Hines on vocals, rock royalty, daughter of Denny Laine of Wings.  She featured on the band's debut single, "Simple" which was successfully re-released in Autumn 2020 ahead of the never-released debut album, "Perfect Moment".
The band toured the North West and gigged selectively in London before a second line-up morphed out of the first one, as per the band's collective ethos.  Belle Erskine emerged on lead vocals (see below) along with a collection of high quality musicians including her husband Richard and  Kylie's then keyboard player.  Belle subsequently featured on all the other tracks on the album which is scheduled for release in Autumn 2020.
Following the release of "Simple", Big Bed Records released "Glory", which picked up strong radio play before Christmas 2019, and, "Nirvana", early in 2021.  The latest single, "Back To Nowhere" has been announced for release on September 3rd.  It again has Belle on vocal duties (pictured below) who co-wrote it with Mark (also pictured below).